Book - ESSENTIAL ENGLISH SKILLS YEAR 9 FOR THE AUSTRALIAN CURRICULUM: A MULTILEVEL APPROACH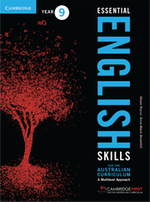 Book Title:

ESSENTIAL ENGLISH SKILLS YEAR 9 FOR THE AUSTRALIAN CURRICULUM: A MULTILEVEL APPROACH

ISBN

9781107691797

Edition:

Price

$

21.95

Categories
Description

Essential English Skills Year 9 for the Australian Curriculum has been revised to cover the language and literacy strands of the Australian Curriculum: English with a focus on introducing key language and literacy skills in Years 7&8 and consolidating and developing those skills in Years 9&10. Units in each workbook are organised by skill and cover grammar, punctuation, spelling, vocabulary, reading, comprehension, writing and editing.

• Explicit teaching pages for each unit carefully explain the required skills, allowing students to work independently in class or at home.

• Three levels of graded exercises extend on from the proceeding level, giving every student an achievable starting point and the opportunity to extend their skills.

• A phonics approach to spelling helps students develop a secure grasp of the essential sound and spelling patterns.

• A cognitive model for comprehension allows students to learn about certain language and text features as they are reading.

• Strong focus on vocabulary development and grammar basics ensure students can apply basic concepts to their own writing across disciplines as well as in the English classroom.

• Proofreading and editing tools encourage students to review their own work and equip them with the skills they need to develop their writing and language use.

•Writing challenges invite students to apply the concepts they have learnt in short written exercises.

• Interacting challenges provide opportunities for oral work and interactions with other students.

• New digital based exercises (Wiki Tasks, Website Explorer and Technology challenge ICT exercises) are fully integrated within the text to extend learning and encourage students to apply knowledge.
Who are

Lilydale Books

?

Lilydale Books has been operating for 25 years, specialising in School Books and educational supplies for primary and secondary schools. We stock a wide range of software, revision guides and stationery including calculators. We have extensive experience with school booklists, library and other curriculum resources.
Similar Products to ESSENTIAL ENGLISH SKILLS YEAR 9 FOR THE AUSTRALIAN CURRICULUM: A MULTILEVEL APPROACH